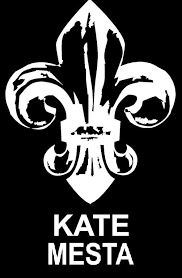 Partnered With Kate Mesta, International Lifestyle Brand
Kate Mesta Jewelry is famous for one of a kind, pieces of art to wear.
They are an internationally known lifestyle brand, focusing on the unique personality and soul of individuality.
Their jewelry has touched the hearts of people around the world, including many Hollywood Celebrities.
Kate Mesta jewelry is worn by over 5000 celebrities and is sold in over 1800 stores in five countries around the world.
The Foundation has joined hands with Kate Mesta to create a unique, exclusive line that helps fund our mission to save more lives from Sudden Cardiac Arrest through each donation.
Our Limited Edition Heart of Gold Tags. They are Solid Copper - Hand Stamped - Hand Painted Patina - One Of A Kind pieces of Art to wear.
They Have Been Uniquely Created by Celebrity Artist - Kate Mesta EXCLUSIVELY for The Foundation.
Worn by many celebrities in support of The Foundation.
One-of-a-kind pieces of art to wear.
These original military dog tags from New York City are hand-painted, hand-stamped and hand-embellished with authentic vintage watch styles.
These unique "When Time Matters™" designs have been Created exclusively for The Foundation
These tags are only available through The Foundation. With your donation of $150 we will gift you the tag of your choice.
46th Daytime Emmys Tag
(only one available)
This is a rare opportunity to own one of the official 46th Annual Daytime Emmy awards Kate Mesta Brand tag.
This one-of-a-kind piece of art to wear is the official tag of the Annual Daytime Emmy Awards. Each tag is made by hand from Hand Cut Copper with inlaid Lithograph Art, making no two tags the same. 
These tags are never made available for purchase and are ONLY given to the nominees, presenters and celebrities attending the Daytime Emmy Awards. 
This is the third year that these highly collectable and prized pieces of jewelry have been created for the academy by Kate Mesta Brand. 
Each year a new piece is created incorporating the official annual daytime Emmy logo, making each unique piece of jewelry part of the television industry's antiquity.
This is for you. For your family. For your neighbors.
Faster Response Times for Cardiac Emergencies.
Having a defibrillator nearby could save the life of someone you know. Empower your community today.